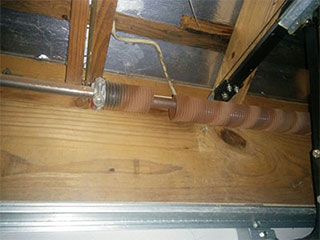 Springs are an integral part of your garage door system. They play the vital role of supporting the door's full weight. They also aid the movement of the door by stretching or twisting to create a stored, tension-based force.
Tension Versus Torque
There are two types of garage door springs; extension and torsion. If your system uses extension springs, you will find them located either side of the door. As the panels lower, these springs stretch. This action creates tension, which is stored in the coils and used to lift the door. Alternatively, if your system uses a torsion spring, you will find it installed horizontally across a metal bar above the door. Your door will lift using a torque motion, generated as the bar rotates and twists. Both types of spring are susceptible to wear and tear. Therefore, they will likely require maintenance to keep them in optimum working order.
Preventing An Accident
To prevent hazardous, spring-related accidents, these components need to be regularly serviced by a professional technician. Our team specializes in ensuring the smooth, silent, and safe operation of your garage door springs. They achieve this through lubrication and expert adjustments to maintain tension levels and prevent overstraining.
DIY Can Be Catastrophic
Although it may be tempting, don't try to tackle these repairs alone. Should your spring break; it will immediately release its stored tension. This violent action can results in your spring flailing around your garage, causing severe damage to anything in its path. A broken spring is also likely to result in your door suddenly slamming shut, potentially causing harm to anyone nearby. For these reasons, you should always seek professional assistance when dealing with spring-related issues.
Rely On Us
For emergency spring replacement and a full professional maintenance service by trained technicians, rely on our team of local experts at Garage Door Repair West Valley City. Talk to us today!
Count on us when it comes to:

Roll up Garage Door Maintenance

Genie Garage Door Opener Services

Galvanized Torsion Spring Installation

Automatic Door Opener Replacement