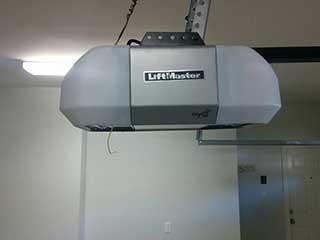 Your garage door system consists primarily of components that work in a straightforward way; springs, rollers and tracks, aren't exactly 'simple' as that would imply that dealing with them is easy, which it is not. However, they aren't as complex as the opener. This unit combines different mechanical and electrical components, including safety sensors, a circuit board, and DC or an AC motor. Consequently, it can be much more difficult to diagnose problems with this device when they arise. Worry not, though, because our technicians have the skills and expertise to quickly identify the root cause of any issue and to apply the perfect solution for it. Whether you have a broken drive gear or a faulty circuit board, our team will be able to help.
Providing Professional Installation
In addition to offering a fast and effective repair service for various problems these devices can experience, we also provide expert installation and replacement services. You can rely on our technicians to provide expert guidance while you're in the process of choosing your new opener. We'll ensure you end up with the perfect unit for your garage. Once you've found the right model for you, we'll quickly carry out the opener installation (removing the old unit if one currently exists), ensuring it's thoroughly tested afterwards and able to work flawlessly with your existing door system.
Which Type Is Right For You?
There are a huge number of options available when choosing a new garage door opener. However, the first decision to make is the type of drive system that's right for you, and that choice is usually limited to three different options. Each one of them can be suited to different purposes. Belt drive models are quiet and work very smoothly, cutting back on noise, which makes them a great choice for homes with an attached garage. They can be a little on the expensive side, though. Screw drive units are noisier, but require very less maintenance, aside from some minor lubrication. Their main downside is that they can be affected by drastic temperatures. Chain drive opener models are the loudest type, however they're typically the most affordable ones also, and are very strong and reliable.
Selecting Additional Features
There's more to choosing an opener than picking a drive system, of course. Many manufacturers now offer a wide array of additional features that enhance their units' performance. From Chamberlain's "MyQ" remote control app to the rolling code systems of brands like Genie. There are lots of innovative new features to pick from, as well as ones that focus on accessibility and practicality, like a backup battery system.
Contact Our Team Today
If you need fast, reliable opener repair or replacement services, all you need to do is reach out to our team at Garage Door Repair West Valley City. Check out the rest of our website to find out what else we can do for you.
Give our team a call if you need help with:

LiftMaster Chain Drive Lubrication

Screw Drive Opener Replacement

Broken Spring Replacement & Repair

Commercial Garage Door Replacement