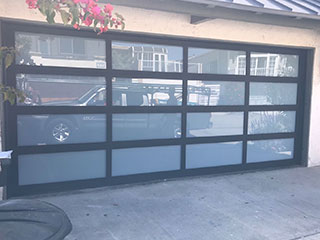 There are many things that could go wrong with your garage door system, some might be minor, and some might be highly dangerous, requiring a quick solution.
Emergency Repair Services
If your door crashes down or if your door has been damaged by vehicular impact, you'll want to get it fixed as soon as possible. This is where we come in. You can rely on our company to provide you with the right services to address the specific emergency situation you are experiencing with your garage. We have the right experience, tools, replacement parts and expertise to provide you with reliable service when you need it the most.
Keeping Your System Safe
If you stop and think about it, your garage door is a large mechanical system that has the potential to hurt you if something goes wrong with it. However, if everything is in its place, looked after and handled correctly, it's likely your garage door system will stay safe. When your spring breaks, don't hesitate to call us for help. Our garage door repair services fully cover both adjustment and replacement, and we only use parts sourced from reliable brands.
Brand New Panels
Garage door panels can get damaged fairly frequently - they're usually the first thing to get hit if you happen to step on the gas instead of the brakes. When this happens, the resulting damage may look intimidating to deal with but there is always a solution. Call our company compatible replacement panels - we'll also install them as part of our service. Your door will be looking great again in no time!
Installation of New Equipment
If your home is new or if you're currently undergoing some renovations involving your garage, get in touch for additional assistance. Not only do we provide repair services for broken setups, we also carry out complete installations of new doors and openers. We carry most brands and types so you can choose whichever you want to fit the overall look you're going for. Get in touch with our local team at Garage Door Repair West Valley City today!
Looking for more? We also offer:

Torsion Spring Repair

Opener Clicker Repair

Garage Door Cable Replacement

Garage Door Receiver Repair