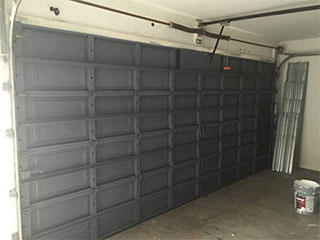 Your garage door should function smoothly each time you use it. To keep your door working as well as possible, a regular maintenance program is necessary. Our technicians are on hand to inspect every part of your system and to make sure the various components are working properly. By sclheduling regular check-ups, our technicians can catch small problems before they spell trouble. By keeping a regular service schedule, you can ensure your door functions perfectly for a very long time to come.
Maintaining The Balance
If your garage door is shutting unevenly or leaving a gap when closed, there could be a problem with the balance. This imbalance could be caused by a tension problem with one or more of the springs. Any adjustment work should be carried out by an expert. If you think your springs need adjustment, get in touch today to schedule a checkup with one of our technicians. We'll also complete an overall balance assessment as part of our standard maintenance checkup.
Looking After Your Springs
The springs in your garage door are fundamental to its proper functioning. They provide the counterforce that makes the opening and closing of your door possible. During a maintenance check, our technicians will inspect the tension and add lubricant to protect against rust and wear. We may recommend a replacement if we notice your springs are reaching the end of their natural lifespan.
Safety Sensor Check-Up
Modern openers come with a set of photo-electric sensors designed to detect obstacles in the path of the door. While our technicians will check your sensors during a preventative door maintenance session, it's important to know that if your door is not reacting to obstacles in its path, your sensors definitely need to be checked and possibly realigned.
Contact Us Today
Make your maintenance appointment with Garage Door Repair West Valley City today. No problem is too small - our technicians are on hand to help. Call us today!
In addition, we offer:

Garage Door Safety Inspections

Garage Door Remote Clickers

Extension Spring Adjustment

Overhead Garage Doors